Things to do on the Isle of Harris
Obviously you will have to fight the urge to simply sit and wonder at the beauty and scale of the views from Baile An Or! Within the house we have a selection of books, board games, unlimited SKY TV and music on demand from TIDAL, and outside you can enjoy the outdoor Hot Tub, Pizza Oven and BBQ.
Should you need advice on things to do on the Isle of Harris, we have provided a comprehensive visitor guide that you will find on arrival. Below are some suggestions and handy links in case you want to book ahead or plan what best to pack!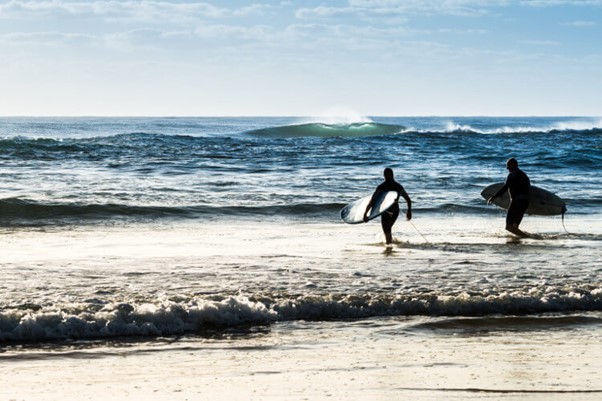 Water Sports
With our clear, turquoise waters and sandy white beaches that would not look out of place in the Caribbean, it is no surprise that the Outer Hebrides are a great choice of destination for lovers of the ocean as well as Scottish water sports holidays.
Western Isles water sports breaks offer everything from kite-surfing to open-water swimming, all against the stunning backdrop of our spectacular Scottish island scenery.
Kayaking
Why not try kayaking in the Outer Hebrides, a pastime that offers endless discoveries. From exploring the hundreds of off-shore islands, such as Mingulay with its caves and sea stacks to a simple paddle in the beautiful Stornoway Harbour, with the stunning grounds of the Lews Castle as a backdrop, the sights and experiences of Western Isles kayaking are fascinating. 
Outer Hebrides kayaking and stand-up paddle boarding tours are available for people of every skill level, from complete beginners to professionals, with Western Isles watersports instructors able to show visitors some of the best places for kayaking in Scotland. Wild kayaking on Lewis, Harris, Uist, or Barra also offers much to the wildlife enthusiast, allowing access to the habitats of the rare seabirds and marine life. 
Surfing
Surfing in the Outer Hebrides is another popular pastime. With our rugged coastline, over seventy beautiful beaches and sparkling, pollution-free sea, the Western Isles are arguably one of the best places in the world to surf. The heart of our surf culture is probably Eoropie Beach, but surfing spots can be found all down the west coast.  The Isle of Lewis, which enjoys swells from every direction and some of the most consistent surf in Europe, is a truly amazing experience. Western Isles surfing lessons are offered by a number of qualified surf instructors in the Outer Hebrides, making this one of the best places to try surfing in Scotland. Kitesurfing is also popular with those enjoying watersports holidays in the Outer Hebrides.
Paddleboarding 
Paddleboarding has become increasingly popular and a great fun way to get in the water and explore our pristine coastline.  You can bring your own or there are some businesses offering them for hire.
Open-water Swimming
For those who prefer to immerse themselves in our clear Hebridean waters, there are instructors who will guide you through the essentials of open-water swimming in our lochs and shores.  Snorkelling and coasteering tours are also available for those who want to get fully immersed in the Outer Hebrides.
Walk, roam and hike your way across the island
The biggest challenge would be to summit the highest mountain in the Outer Hebrides, Clisham centrally located on North Harris. Walk to the top of Beinn Dhubh for breath taking views down to Luskentyre beach, a sight you will not forget.
Pull on your hiking boots and follow this Rubh' an Teampaill Route, that takes you out to the far west of South Harris, past beautiful beaches and to the ruins of a medieval chapel. Head to Bunavoneader Whaling Station (Bun Abhainn Eadarra) to explore the landscape and see one of the most intact examples of a whaling station in the northern hemisphere.
You can sail across to the long-abandoned Island of Scarp to the north, which has a fine machair that's ideal for birdwatching. Spot lapwing, skylark, dunlin, redshank and golden eagles, the latter of which is thriving in this region, with the highest density of golden eagles in Europe being found in the Harris Hills.
For those with good seal legs why not visit ancient and fascinating St Kilda. https://seaharris.com/ or tour the shoreline on a fascinating voyage with https://www.isleofharrisseatours.co.uk/ or take a Rib Tour with Kenny – https://www.isleofharrisseatours.co.uk/
Scotland is known for its spectacular road trip routes so make sure you go for a drive to see the best of this beautiful island. You could drive through some of Scotland's rockiest low-level scenery on The Golden Road, apparently named for the high cost of building along the treacherous rocky landscape. The Outer Hebrides are like Disneyland for geologists thanks to their ancient rocks, some of which date back three billion years. The rock is so rare, its composition bears a close resemblance to that of the moon.
Take a drive to the island, Scalpay, connected to Harris via a single track bridge. Home to a lively population, harbour and lighthouse, it's perfect walking territory with things to see and places to eat when you're done exploring. 
You will not need to go far from the house to see Seals, Dolphins, Otters and Sea Eagles.  Harris is a nature lover's paradise with much to go out and see.
Harris has an incredibly high density of White Tailed Eagles and Golden Eagles.  Keen birdwatchers can spot these magnificent birds from the North Harris Eagle Observatory.
There are few manmade attractions on the island but that's not why people travel here. They come for the chance to escape and retreat into nature, that's why this island draws artists, adventurers and nature enthusiasts year-round.
Highlight attractions whilst on the Isle of Harris
The beauty of the Isle of Harris is that you can venture north to the Isle of Lewis easily. There are some attractions on both that you should try and fit in if you have the time.
Here are some of our favourites:
Calanais Standing Stones – These are an extraordinary cross-shaped setting of stones erected 5000 years ago. It is thought that they were a kind of astronomical observatory and they are said to be older than Pyramids of Giza!
Harris Tweed – Find out all about the fabric that has made the island so famous. The shop is tucked under the hillside at the mouth of the harbour and will probably be the first shop you notice as you drive off the ferry in Tarbert! Location:HS3 3DJ
Stornaway – This is the main town of the island. It's vibrant harbour is a point of interest for many who are keen to explore the traditional methods of Scottish fishing, and the shopping isn't bad either.
Bosta Iron Age House – The Iron Age Village was discovered at Bosta – only in 1993 when after severe gales the remains were revealed. A long excavation then followed which revealed the very important archeological finds. A reconstruction of an entire house was then carried out and that iron age house is open for visitors to see today.
Gearrannan Blackhouse Village – Here you can see traditional activities, including the weaving of the famous Harris Tweed.  There is a small shop where you can buy mementoes of your visit, and you can relax in the cafeteria where you can enjoy the best of home-made fare.
St Kilda – St Kilda is an isolated archipelago situated 40 miles west-northwest of North Uist in the North Atlantic Ocean. You can take a boat trip here from the Isle of Harris which makes for a splendid day out.
Food and drink on the Isle of Harris
Keeping time-honoured Scottish traditions alive, this northern island has it's very own whisky distillery with a 'Social Distillery' ethos – this essentially means it's open six days a week to welcome visitors. You can visit their restaurant for a bite to eat and to sample a dram of their world-famous whisky. If you're not a whisky lover, no worries, as they also specialise in a gin infused with sugar kelp, which has inspired their 'Seafood Project'.
Are you a true whisky connoisseur? During your time in Scotland, you may want to consider a visit to the distilleries on the Isle of Skye.
Isle of Harris restaurants
There's a variety of cafes, restaurants and eateries across the island, you just need to know where to look! With so many establishments offering the best of local produce served up on a plate, you can spend your entire trip eating out and sampling some of the best seafood in Scotland.
Here are just a few options for your time in the Outer Hebrides:
http://harrishotel.com/ – Our favourite traditional, family run hotel, great meals, breakfasts and whiskies by the fire!
The Machair Kitchen – a rather beautiful cabin-like venue by one of the Isle of Harris' stunning beaches.
Butty Bus – Leverburgh local favourite, ideal for walkers or hikers passing by this incredible beach and fancy a traditional tasty chip butty.
Looking for a caterer? Flavour do dinner parties and special events, you'll dine on a Hebridean fusion menu with locally sourced produce that can be tailored to your guests' requirements and – the best bit – no washing up! This might be the perfect solution for you and your family to avoid having to cook every day!